Honey Gingerbread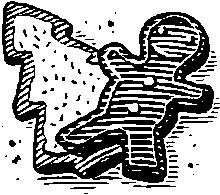 I get this recipe from my mother in law where she got it from a recipe book somewhere she says and I find that this recipe is easy to follow and make! This is a traditional, dark gingerbread, with the additional of honey and cinnamon. Mmmmm... Delicious!!!!
Ingredients
4 oz butter
4 oz sugar
1 egg, beaten
10 oz flour
1 teaspoon bicarbonate of soda
1 teaspoon ground ginger
1/2 teaspoon salt
6 tablespoons black treacle
6 tablespoons clear honey
8 fl oz hot water
1 teaspoon cinnamon
Set your oven to 350 F or Mark 4. Grease and line a shallow 9 inch x 9 inch baking tin. Melt the butter in a pan and allow to cool. Beat together the sugar and egg and add to the butter. Combine together the flour, bicarbonate of soda, salt and spices. In a seperate bowl mix together the treacle, honey and water. Add the dry and the liquid ingredients alternately to the butter mixture, blending well after each addition. Put into the tin and bake for one hour. Leave to cool for 10 minutes then turn out on to a wire rack.