Haddock Baked In Yoghurt with Lime & Chilli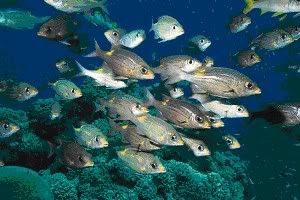 Nice Fishie, fishie!

Ingredients
2 large onion, thinly slice
900g Haddock fillet
425ml Low Fat Natural Yoghurt
2 tbsp lemon juice
1 tsp sugar
2 tsp groun cumin
2 tsp ground coriander
1 tsp Hot Chilli Powder
pinch Garam Masala
pinch Ground peppercorn
1 tsp freshly grated ginger root
3 tbsp vegetable oil
4 tbsp cold unsalted butter cut into pieces
1 tsp garlic, crushed
rind of kaffir lime, finely grated
2 small red chilli deseeded and very finely chopped
salt & pepper
lime wedges for decoration

Line a large baking dish with the onion slices. Cut the fish into strips widthways and lay the fish in a single layer over the onions. Mix together the yogurt, lemon juice, sugar, cumin, coriander, chilli powder, garam masala, ground peppercorn, ginger, oil and seasoning. Pour this sauce over the fish, making sure it goes under it as well. Cover tightly. Bake the dish in a preheated oven at 190 degrees C for 30 minutes or until the fish is just tender. Carefully pour the sauce off the fish into a large bowl. Sauteed the chilli and garlic with 2 tbsp butter for 1 minute. Pour the sauce to the saucepan and bring to the boil, simmer to reduce the sauce to about 350ml. Remove from the heat.

Add the remaining cubes of butter to the sauce and whisk until melted and incorporated. Pour the sauce back over the fish and serve with boiled or oven crisps baby potatoes and vegetables.

Note: I like the sauce to be thick so what I did is I add in 1 tsp of cornflour mixed with a bit of hot water and add it to the sauce! Stir well okay! If you want it to be really thick then increase it to 2 tsp... Up to you okay??!!!!

Enjoy!!!